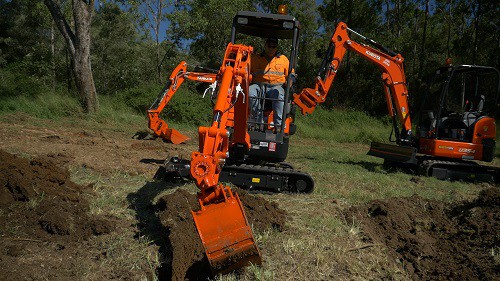 The ANT Tilt hitch allows to you to do more than just digging. It is versatile and it gets the job done with minimal effort.
Today we're going to explore some of the key features of the ANT Tilt Hitch as well as its various applications.
Features of the ANT Tilt Hitch
The ANT Tilt Hitch system lets you secure attachments quickly. It comes equipped with a hydraulic exchange and an automatic locking system. This means you won't need to get out of the cab to attach your mud bucket.
The quick and straightforward pick-up process also makes it easy to exchange attachments as and when required. The hitch has a front safety latch and two coupler connections. It offers operators the perfect combination of strength and endurance.
Applications of an ANT Tilt Hitch
You can rotate attachments with the ANT Tilt Hitch, allowing you to reach hard-to-dig areas. It handles angle cutting and slope cutting and it can also shape the edges of the hole you're digging. Unlike most other tilt hitches, the ANT Tilt Hitch offers you 180 degrees of tilt.
One of the most outstanding features of the tilt hitch system is that you can use it to perform tasks that require precision, such as digging or drilling close to utility lines. Simply rotate the hitch to prevent the attachment from hitting the power or gas lines.
You can also pair the hitch with a hydraulic grapple. It has excellent holding force, which makes it easy to pick up rocks or boulders from trenches.
The ANT Tilt Hitch features German engineered actuators and protected hose routings.
Proper Use of the Hitch
Never modify the hitch without getting in touch with the manufacturer. You should also avoid replacing original components with aftermarket parts or cheap substitutes. Make sure all the safety features of the hitch are in proper working order before using it.
Get the Best Excavator Parts
If you need high-quality excavator parts and attachments, talk to the professionals at Allclass Construction Equipment. We have been operating for more than two decades and we're committed to bringing you the best excavators at an affordable price.
Whether you're looking for new or used excavators, you'll find them under our roof. We have three state-of-the-art service centres and we have received 5-star Kubota accreditation.
Our range also includes generators, engines, track loaders, trenchers and much more.
Call us on 1300 255 252 for a quick quote or ask us about our latest Kubota excavators for sale in Brisbane.